Scratch Games
Playing a scratch game online is an excellent way of spending some time and having a bunch of fun at the same time. Now days you will find huge selections of scratch card games at such sites like Crazy Scratch and Slots N Games.  While Slotsngames is mainly focused on slots, CrazyScratch focuses on scratch tickets; both however, have also other games in their selection.
Easy to play games such as scratch off tickets have been conquering the hearts and minds of all kinds of players for several years, and now you will find literally thousands of players playing and having fun every hour every single day of the year.
With such great promotions like free £5 no-deposit bonus and different competitions and raffles for players, as well as generous deposit match bonuses and great games that are constantly added to the selection, it is not a surprise that scratch game sites like CrazyScratch are becoming more and more popular.
There are literally hundreds of different scratch card games online, but which ones are really worth playing? If you're on the search for the top scratch games, you've come to the right place. Here, we give you a shortlist of the most exciting and incentivising games as well as details on where to play them.
3WOW Scratch Card Game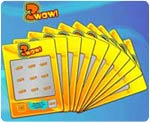 3WOW was launched in late 2009 and was an immediate success amongst the online scratch card community, probably for its simplicity, ease of play and likeness to traditional scratch cards. It has a staggering £/€1 million cash prize to play for and players can purchase cards for as little as 25p/25cents. 3WOW offers a cash prize multiple times larger than that offered by the National Lottery and this really differentiates it from a majority of other scratch games out there.
3WOW is available to play at a site called CrazyScratch.com – it is international and therefore offers a wide selection of languages and currencies, opening the game up to most of Europe and slightly beyond. They have an excellent range of deposit methods so it's very easy to fund your player account and of course there is customer support around the clock. Customer support is extremely important and at CrazyScratch.com, players can receive guidance through every single step – from filling out the short registration form to cashing out winnings.
Candy Tale Scratch card
The Candy Tale Scratch Cards game offers very high chances of winning. The Candy Tale scratch card is hugely popular and it has become one of the most-played games. Besides, envision how much a prize of $200,000 could change your life!! Don't lose any more time – get in with the chance of scooping the jackpot now!
Fast Hands
How would you like to win up to £200,000 playing rock-paper-scissors? Never mind how it would feel, the important part is that now you can! Fast Hands is one of the newest additions to already huge scratch card selection available at CrazyScratch.com. The game is based on the game almost everyone knows; Rock-Paper-Scissors.
Just as in other games the top prize is an astonishing £100,000 (£200,000 if you are a member of their Gold Club).  Fast Hands is extremely easy game to play; Select the bet, select the hands you would like to play and hit "Play", simple as that!
Fairy Tale Scratch Game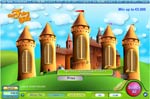 Another popular scratch card game is Fairy Tale – it is especially played by women who seem to fall in love with the little characters featured in the game. It is beautifully animated and is really does remind you of a scene out of a Fairy Story.
Again, players can purchase scratch cards for 25p/25cents up to £20/$20/€20 and play for a chance to win the £/$/€200,000 jackpot! What's so great is that players play as usual, and in parallel, they also play for the ultimate cash prize.
Treasure Island Instant Win Game
Treasure Island is a scratch card you will find under the Fantasy scratchcards tab. Just as before the same £100,000 jackpot is available for all non-Gold Club members and £200,000 top prize for those who are members. In this game the goal is to find gold in 3 out of 4 chests you see on the screen. Manage to do that and the prize that is hidden in the "Prize"-chest is your, fail and all you´ll get is dust.
Find over 50 themed scratch-cards and claim your free £5 at CrazyScratch.com