Scratch Off Tickets
Everybody loves scratch tickets. Well, perhaps not love but almost everyone has played them at some point of their lives. On this page we will introduce some of the more traditional scratch card games and scratch-offs offered online.
3WOW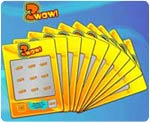 3WOW is as traditional scratch off as it gets, except that you can win a £1 Million top prize for only £2. This scratch ticket really does look like one, with its 9 scratchable surfaces and a simple goal of scratching the same prize 3 times. What's more, you also have a multiplier field which could multiply you prize 10-fold. Without the £1 Million Jackpot, the normal top prize is £100,000 or £200,000 depending whether you are a member of Crazy Scratch Gold Club.
Jungle Joy
Jungle Joy is fun yet traditional scratch card game that is offered at CrazyScratch.com. In a traditional way, the goal is to find the same animal 3 times. The only "catch" is that you can only scratch 4 fields out of 9 possible, that on the other hand creates some extra excitement.
Champagne
Just as the previous game (Jungle Joy) Champagne is based on the same idea of the player finding three of the same out of 9 covered fields with the same catch as before; you can scratch only 4 fields. The games are basically the same except that the Champagne one uses a glass martini, scotch and champagne instead of jungle animals found in Jungle Joy scratch ticket.